General
College of Nursing, Pune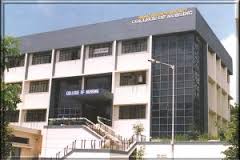 About Library
Foundation Year for Central Library: 1992
The BVDU  College of Nursing, Dhankawadi, Pune Library plays a vital role in the collection development and dissemination of Nursing and related disciples information to meet the present and future needs of its users which includes students, researchers and faculty.
The BVDU College of Nursing, Dhankawadi, Pune Library is specialized library consisting of 10878 documents on Nursing and related disciples. The library is fully computerized using LIBRARY MANAGEMENT SYSTEM integrated library management software. The collection of the library is available online through the web OPAC facility of the LIBRARY MANAGEMENT SYSTEM
Library Services:
The library provides following services to its users:
Reference Service
Document Delivery Service
Inter Library Loan Service
Electronic Information Service
Photocopy Service
Digital Library Services
The total area allocated for Central Library is151.30sq meter which includes below mentioned departments.
Reference Section
Circulation Section
Journals Bound Vols. Section
Digital Library
Reading Hall for Under Graduate Students
Reading Hall for Staff and  Post Graduate Students